Nowoczesna dietetyka – kurs dla Specjalistów
27 maja, 2019 @ 13:00

-

30 maja, 2019 @ 17:45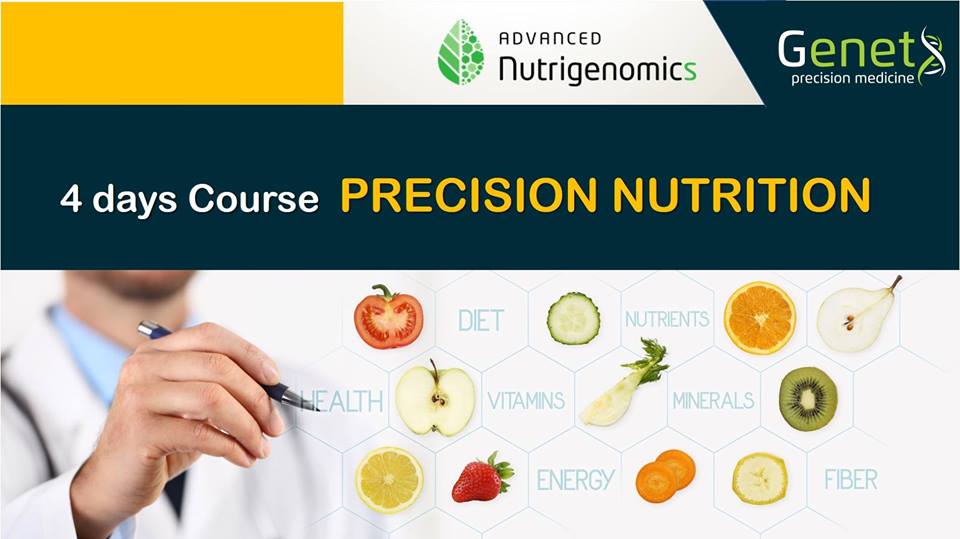 🔴 TOPIC OF THE COURSE:
"Using nutrigenetics to assess individualized nutritional requirements"
🔴 KNOW THE DIFFERENCE BETWEEN US!
We all are different; therefore, we have different needs!
Eating patterns that does not take into account the personal nutritional needs, SAME TREATMENT for all, have proven to be INEFFICIENT solutions.
The current approach of trial & error can be updated into PERSONALIZED APPROACH and we know THIS IS THE FUTURE.
🔴 JOIN US IN OUR AIM TO HEAL HUMANITY using the most common medicine – FOOD. Let FOOD be your MEDICINE! /Hippocrates/
We invite you to listen and ask international recognized specialist in nutrigenetics Mihai Niculescu (MD, PhD). For 4 days – 4 hours/day, we aim to expose theoretical parts, sprinkled by case studies, discussion and question – Answer session. You will have the opportunity to participate at the live presentation of NutriCare.Life, a digital platform able to transform the needed quantities of nutrients in food and supplements, to cover nutrition deficiencies.
🔴 SOME TECHNICAL INFORMATION:
♦️ Each day consists of 2-course hours followed by 2 hours of practical analysis and discussion. Presence is necessary for the entire duration of the course.
♦️ The practical analysis will consist of grouping participants into several teams. Each session will have a topic with 1-3 reading materials. Each team will have to come up with a resolution to the topic, which has to be supported based on the reading materials. The solutions will be then discussed.
♦️ At the end of each day a quiz will be administered. The quiz does not count towards class graduation, but it is used for providing feedback to the lecturer.
♦️ The effective duration for each day will be around 5 hours.
♦️ Attendance certificates will be handed at the end of the course.
=============================
💲 Access the link for REGISTRATION:
https://app.livestorm.co/genetx/krakow-precision-nutrition-course
🔴 AGENDA:
Day 1
========
Course. Introduction to nutrigenetics and nutrigenomics.
▪️ General introduction.
▪️ The process and criteria for assessing nutritional requirements – history and present.
▪️ Genes and nutrition: myth and reality.
▪️ The elements of nutrigenetics. "Actionable items" versus "Non-actionable items".
↪️ Analysis. Is it or not well justified the recommended intakes of folates (USDA values)? Quiz.↩️
Day 2
========
Course. The roles of genetic structure in modulating the metabolic effects of nutrients. Consequences upon health and disease.
▪️ Genetic evolution
▪️ Types and roles of genetic variations
▪️ Gene-environment (nutrient) interactions (eco genetics).
▪️ Gene-gene interactions.
▪️ Haplotypes.
▪️ How to define and recognize actionables.
▪️ The need to establish priorities in nutrition.
↪️ Analysis. High plasma homocysteine. Defining which nutrigenetic elements are needed to establish a nutritional intervention. Pitfalls. Quiz.↩️
Day 3
========
Course. The impact of genetic variations upon nutrition and related health outcomes.
▪️ Pregnancy.
▪️ Lactation.
▪️ Growth and adolescence.
▪️ Adults.
▪️ Older people.
▪️ In the context of some metabolic disorders.
↪️ Analysis. Choline and liver. Is the nutrigenetics of choline ready for primetime against NASH? Quiz.↩️
Day 4
========
Course. Genotyping methods. Criteria to be considered in practice.
▪️ Genotyping methods: advantage and limitations.
▪️ Criteria for selecting a genotyping method. Pitfalls to avoid.
▪️ Anonymous examples and discussion of various nutrigenetic tests. ▪️ Arguments pro and against.
▪️ Risk versus Diagnostic.
▪️ What information should a nutrigenetic test provide? How to I differentiate between a test that is useful, and one less useful?
▪️ Conclusions
↪️ Analysis. How should a nutrigenetic test look like in order to consider it useful to my practice? Quiz.↩️
Looking forward to seeing you in Krakow,
Team GenetX
=============================
💲 Access the link for REGISTRATION:
https://app.livestorm.co/genetx/krakow-precision-nutrition-course
🔴 ABOUT THE SPEAKER:
Mihai Niculescu, MD, PhD
Founder and CEO Advanced Nutrigenomics, Adjunct Professor at The "Victor Babes" University of Medicine and Pharmacy, Timisoara, Romania.
Internationally recognized expert in nutrigenetics, nutrigenomics and nutritional epigenetics. Between 2008 and 2015, having his own laboratory at The Nutrition Research Institute (UNC Chapel Hill), Dr. Niculescu focused on the relationship between nutrients (such as choline, fatty acids, polyphenols, etc) and the genetic and epigenetic backgrounds, as well as on the impact of nutrition upon epigenetic transgenerational inheritance. In 2015 Dr. Niculescu founded the startup company Advanced Nutrigenomics, where he continues to develop nutrigenetic and epigenetic tools and products. In 2016 he became the principal investigator for the NUTRIGEN project at UMF Timisoara, a 2 M euro grant awarded with EU funds by the Romanian Government.
His current work involves the development of his company in the field of nutrigenetics (Cary, North Carolina), and his work in Timisoara, Romania. He is the author of more than 60 scientific articles and book chapters, and the editor of a book on nutritional epigenetics. He is a peer reviewer for more than 40 scientific journals, and a grant reviewer for NIH (USA), MRC and DIABETES (UK), NWO (The Netherlands), KAUST (Saudi Arabia), and The QATAR Fund (Qatar). His external service includes efforts within the International Society of Nutrigenetics/Nutrigenomics organizing committee for the ISNN congresses in 2015 (Chapel Hill, USA), 2019 (Cambridge, UK), and in 2020 (Timisoara, Romania).
He graduated the Carol Davila School of Medicine, Bucharest, Romania in 1995. He obtained his PhD in nutritional biochemistry from The University of North Carolina at Chapel Hill in 2005
=============================
💲 Access the link for REGISTRATION:
https://app.livestorm.co/genetx/krakow-precision-nutrition-course
Please check as well the Open Seminar in Krakow for everybody interested in nutrition, 31.05.2019: https://app.livestorm.co/genetx/krakow-precision-nutrition-seminar