We live in times when external appearance is often identified with a person. Comparing yourself to another person's physicality is common. We compare ourselves to the ideal silhouettes of celebrities from social media. We want to be like them at all costs. The result is that we reach for numerous slimming methods. All this with the hope that fat loss will come to us quickly and without any problems. It would be better if it were tasty too. Is this what an effective diet really looks like?
Table of contents:
Why are we still overweight?
Searching for the holy grail of weight loss, we outdo each other in finding newer and newer methods of weight reduction. We frequently succumb to temporary fashion. The media is partly to blame, flooding with conflicting information on how to do it right. Once it is a high-protein, cabbage, ketogenic diet. Another time starvation. We want to believe that our awareness as consumers is increasing. However, reports in the National Health Fund are alarming: there are still more people with excessive body weight. Every fourth Pole is obese. Three in five adults are overweight. [1] We have no patience for long-term changes. We count on the effect here and now, not realizing how complicated the process is. [2]
Instead of a permanent effect, we have a yo-yo effect
The yo-yo effect usually occurs when, after reaching the dream weight figure, we return to our old eating habits. Body weight increases and often exceeds the starting weight. We are talking about it when, after 5 years from the end of weight loss, body weight increases by more than 5%. [3] Why is this happening? This is influenced by numerous factors. At the forefront are restrictive diets, i.e., a sharp reduction in calories consumed. It is also the effect of fasting through a sedentary lifestyle and returning to old eating habits. It may also be due to psychosomatic factors and eating disorders. Typically, they appear after using low-calorie diets. [4]
Long-term elimination of various food groups results in a deficiency of nutrients, which causes the body to malfunction. In such a situation, the body, instead of burning fat, begins to store it to have a source of energy in the event of further restrictions. [5] [6]
What are the consequences of the yo-yo effect?
People who lose weight in the wrong way expose themselves to dangerous health consequences. Too fast weight loss can result not only in nutritional deficiencies. The lack of important micro- and macronutrients is reflected in poorer blood test results. The long-term consequences of this fact may include:
Anemia,
headaches,
hair loss,
palpitation feeling,
faster aging of the skin,
hormonal disorders,
and even digestive diseases. [7]
Alternating gaining weight and losing weight leads to excessive accumulation of fat in the abdominal area. This, in turn, increases the likelihood of developing type 2 diabetes or cardiovascular disease. [8] Physical health problems often go hand in hand with malaise. This is accompanied by low self-esteem. A person loses faith in their abilities, which has a negative impact on social and professional life. The risk of mental illness increases. [9] So, to lose weight, you must eat!
Tips on what a diet should look like for a healthy and effective weight loss
On the Internet, we can find many headlines under the titles "how to lose 10 kg", "how to lose belly fat", and "lose weight by New Year's Eve". How to do it properly? Here, the pyramid of healthy eating and physical activity is first aid. The National Institute of Hygiene regularly updates and supplements the pillars crucial to maintaining health [10].
These are 7 rules that can make it easier for us to fight for a new, healthier self.
1. Activity means health
Daily exercise helps to prevent the development of not only overweight and obesity, but also many metabolic diseases. [16] According to the World Health Organization, the necessary amount of physical activity is [19]:
| | |
| --- | --- |
| for children and schoolchildren | 60 minutes a day of moderate or intense physical activity |
| for a healthy adult (aged 18-65) | 330 minutes of moderate physical activity 5 days a week or 20 minutes of very intense activity 3 days a week |
| for people over 65 | it is recommended to strive to achieve the goals of an adult |
Another tool that can support the slimming process is a plate of healthy eating. In a simple and clear way, it shows the proportions of macronutrients on the plate. The graphic also includes healthier alternatives to popular food products. You can learn from them what you should limit. It is also information about what should be included in the daily diet the most. [11]
2. Remember about the caloric deficit
In addition to a rational approach to changing eating habits, a caloric deficit is necessary. What is it? It is a situation when the body expends more energy than it receives with food. With mild weight loss, caloric intake should be reduced from 150 kcal to 300 kcal per day [12]. This will result in weight loss in the long term. It should also be remembered that excessive caloric restriction in the diet can lead to the previously mentioned yo-yo effect. Therefore, it is best to contact a dietitian who will properly select the right energy supply for the menu.
3. Don't be afraid to vary your diet
Another critical factor that increases the long-term change in eating habits is the variety of diets. We also eat with our eyes. The more visually attractive the plate, the more willingly we will want to eat its contents. Our meal should include all products from the three basic groups of macronutrients. These are proteins, fats, and carbohydrates. The largest proportional share will have vegetables and fruits, which is about 50% of our meals. 1/4 is composed of complex carbohydrates. The best choice is coarse-grain groats and whole-wheat pasta. The remaining 1/4 are sources of complete protein, including good quality meat from proven sources, fish, eggs, legumes, or dairy products. [13]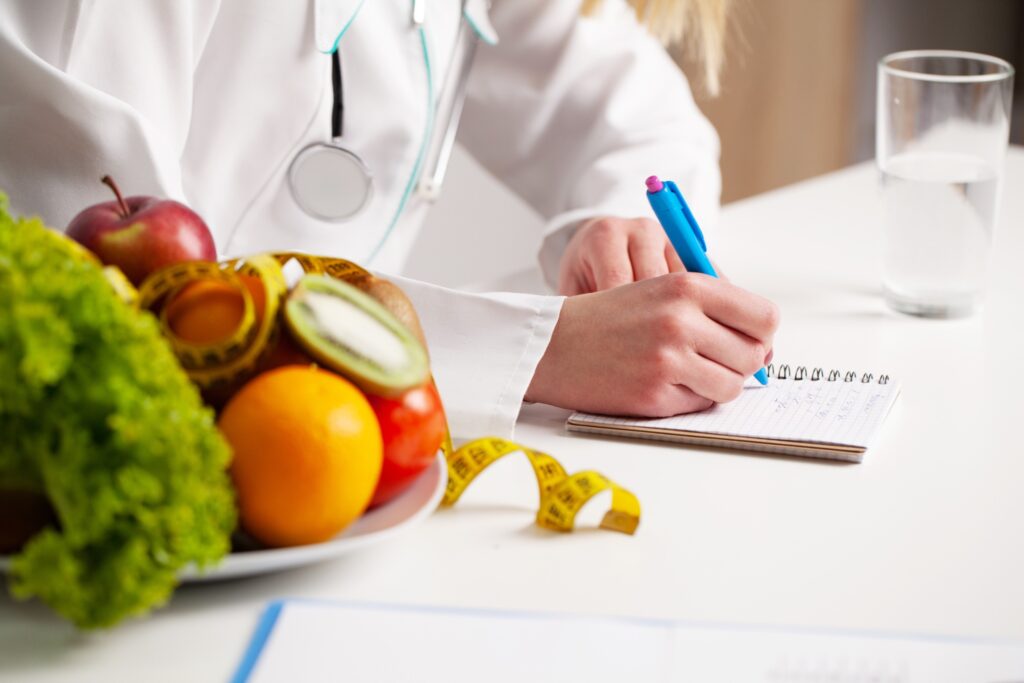 4. Drink water
Another pillar is proper hydration of the body. The regulation of the sense of thirst, as well as the normalization of hunger, occurs in the body at the hormonal level. [14] [15] Thirst is regulated by vasopressin. Unfortunately, we often confuse hunger and thirst. When we are thirsty, we may think we are hungry. It is recommended to drink about 30 ml of fluids per kilogram of body weight [13]. The amounts of fluids you drink include tea and coffee. However, water should be the key element of body hydration.
5. Avoid highly processed products
Tasty and caloric products, such as chocolates, bars, cookies, or chips eaten in excess, unfortunately, interfere with effective weight loss. Highly processed food is a way to provide yourself with extra calories. Complete abandonment of these products may adversely affect the desire to maintain healthy eating habits.
A high degree of processing also means additional substances in food products. They frequently have a negative impact on our health. [15] These are products devoid of many vitamins, minerals, but also fiber. It is significant in the prevention of intestinal diseases and in the proper weight loss process. The recommended dose is 25–40 grams a day, with the optimal supply being individual. Dietary fiber is low in calories – approx. 2 kcal/g and increases the feeling of satiety [13]. The largest amounts can be found in cereal products. Importantly, not everyone has the same amount of it. It is best to choose coarse grain groats and wholemeal flour.
6. Planning and consistency are the keys to success
Moreover, the key to success is consistency and planning. Each of us knows that shopping on an empty stomach and without a specific list is a bad idea. It often results in buying products that would never be in our basket. Meal planning is also an element that allows you to save time and money. It also gives you a sense of control over the quality of the food you eat.
7. Don't compare yourself to others, look at yourself
One of the most important aspects of healthy weight loss is primarily an individual approach. Before we decide to start a reduction diet, we should contact a specialist. It is necessary to pay attention to whether we are fully healthy. In the case of people who are ill or with health ailments, allergies, and food intolerances, diets should be selected that are appropriate to their health problems. It should be borne in mind that there are such disease entities that may affect the process of reducing excess body weight. These are in particular thyroid diseases, diabetes or insulin resistance, and autoimmune diseases. Not every diet is right for everyone [17], [18].
Summary
So, is there a recipe for effective weight loss? Definitely yes, but you have to remember that it is a long-term process that requires patience and the right approach. Hurrying and comparing yourself to others will not make you lose weight instantly. Fasting or restrictive diets can cause even greater disappointment. In addition, remember to trust the recommendations of professionals who know perfectly well how to guide the patient properly. Let's follow the recommendations of maintaining the well-being of the body, and supporting healthy weight loss. Firstly, let's consider the caloric deficit, the diversity of your diet, exercise, and proper hydration. All these pillars will help us achieve our goal and will additionally have a positive impact on our lifestyle. Micro Habits result in significant changes for the better!
Bibliography:
NFZ. (2022). Otyłość – choroba wagi ciężkiej. Narodowy Fundusz Zdrowia (NFZ). https://www.nfz.gov.pl/aktualnosci/aktualnosci-centrali/otylosc-choroba-wagi-ciezkiej,7355.html
Amigo, I., & Fernández, C. M. J. (2007). Effects of diets and their role in weight control. Psychology Health & Medicine, 12(3), 321–327. https://doi.org/10.1080/13548500600621545
Strasser, B., Berger, K., & Fuchs, D. (2015). Effects of a caloric restriction weight loss diet on tryptophan metabolism and inflammatory biomarkers in overweight adults. European Journal of Nutrition, 54(1), 101–107. https://doi.org/10.1007/s00394-014-0690-3
Roth, D. A., Herman, C. P., Polivy, J., & Pliner, P. (2001). Self-presentational conflict in social eating situations: a normative perspective. Appetite, 36(2), 165 171. https://doi.org/10.1006/appe.2000.0388
Johannsen, D. L., Knuth, N. D., Huizenga, R., Rood, J., Ravussin, E., & Hall, K. D. (2012). Metabolic Slowing with Massive Weight Loss despite Preservation of Fat-Free Mass. The Journal of Clinical Endocrinology and Metabolism, 97(7), 2489–2496. https://doi.org/10.1210/jc.2012-1444
Weighing the Facts: The Tough Truth About Weight Loss. (2017, April 12). https://www.michiganmedicine.org/health-lab/weighing-facts-tough-truth-about-weight-loss
Cybulska, C. (2018). Głodowanie z wyboru ― konsekwencje zdrowotne. Cybulska | Forum Zaburzeń Metabolicznych. https://journals.viamedica.pl/forum_zaburzen_metabolicznych/article/view/57922
Anderson, J. M., Kendall, C. W., & Jenkins, D. J. (2003). Importance of Weight Management in Type 2 Diabetes: Review with Meta-analysis of Clinical Studies. Journal of the American College of Nutrition, 22(5), 331–339. https://doi.org/10.1080/07315724.2003.10719316
Polivy, J. (1996). Psychological Consequences of Food Restriction. Journal of the American Dietetic Association, 96(6), 589–592. https://doi.org/10.1016/s0002-8223(96)00161-7
Piramida Zdrowego Żywienia i Aktywności Fizycznej dla osób dorosłych, 2017, https://dietetycy.org.pl/piramida-zywieniowa-2017-opisem/
Talerz Zdrowia. Zalecenia Zdrowego Żywienia PZH 2020, https://dietetycy.org.pl/talerz-zdrowia-zalecenia-zdrowego-zywienia-pzh/
Johannsen DI, Knuth ND, Huizenga R, Rood JC, Ravussin E, Hall KD. Erratum: Metabolic slowing with massive weight loss despite preservation of fat-free mass. J Clin Endocrinol Metab. 2016;101(5):2266. doi:10.1210/jc.2016-1651
Jarosz, M., Rychlik, E., Stoś, K., & Charzewska, J. (2020). Normy żywienia dla populacji Polski i ich zastosowanie.
Kavouras, S. A., & Anastasiou, C. A. (2010). Water Physiology. Nutrition Today, 45(6), S27–S32. https://doi.org/10.1097/nt.0b013e3181fe1713
Karowicz-Bilińska, A. (2011). Water and its importance for female body. Karowicz-Bilińska | Ginekologia Polska. https://journals.viamedica.pl/ginekologia_polska/article/view/46331
Piramida Zdrowego Żywienia i Aktywności Fizycznej dla osób dorosłych, 2017, https://dietetycy.org.pl/piramida-zywieniowa-2017-opisem/
Elfström, P., Montgomery, S., Kämpe, O., Ekbom, A., & Ludvigsson, J. F. (2009). Risk of Thyroid Disease in Individuals with Celiac Disease. The Journal of Clinical Endocrinology and Metabolism, 93(10), 3915–3921. https://doi.org/10.1210/jc.2008-0798
Sun X, Lu L, Yang R, Li Y, Shan L, Wang Y. Increased Incidence of Thyroid Disease in Patients with Celiac Disease: A Systematic Review and Meta-Analysis. PLoS One. 2016 Dec 28;11(12):e0168708. doi: 10.1371/journal.pone.0168708. PMID: 28030626; PMCID: PMC5193514.
WHO. (2021). Wytyczne WHO dotyczące aktywności fizycznej i siedzącego trybu życia. WHO.com. https://www.who.int/europe/home?v=welcome=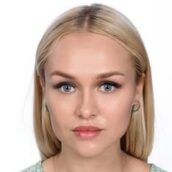 Wiktoria Heromińska
Second year student of dietetics at the Medical University of Gdańsk. For 12 years I practiced sport (handball), thanks to which I became interested in nutrition and a healthy approach to life. In addition, I am passionate about cooking, traveling, and psychology.