Nothing very bad could happen to you there – wrote Truman Capote about Tiffany's New York salon, where his heroine, Holly Golightly spent her mornings, admiring the jewelry through the window while savoring a croissant and coffee. From literature through films, music, and even advertisements, French breakfasts over the years have become an integral part of pop culture. The image of an elegant and refined lifestyle has become a marketing element that builds a specific image of France in mass culture. But what is a traditional French breakfast really like?
Essence of French breakfast
Breakfast in France is known as "petit-dejeuner" which literally translates as "small lunch". Traditionally, it is served between 7 and 10 in the morning. It is worth noting that in France, unlike other European countries, breakfast is not considered the most important meal of the day. It is often skipped. Many residents of this country pay much more attention to lunch, which is the main meal of their day [1].
The French prefer light and sweet breakfasts. Their essence lies in the combination of high-quality ingredients and the use of traditional recipes. The basis of a classic breakfast is pastries made from puff pastry. These include croissants, chausson aux pommes, pain au chocolat and pain aux raisins. Furthermore, an integral part of French breakfasts are yeast pastries such as baguettes and brioche. French specialties are primarily served with fresh butter and jam, accompanied by a small, aromatic coffee [1].
Is French breakfast healthy?
French breakfast is characterized by low nutritional value. This is due to the high content of saturated fatty acids and simple sugars in the products that make up the basis of this meal.
Traditional sweet pastries made from puff pastry are a source of so-called empty calories. This means that they do not provide many valuable nutrients and bioactive compounds. They do, however, contain large amounts of monosaccharides, causing fluctuations in blood glucose levels. It is also worth adding that sweet pastries are made from hard margarine, which is the main source of harmful trans fatty acids (TFA) for health. Research has indicated that TFAs are responsible for increasing the risk of developing cardiovascular diseases and certain types of cancers. They also promote the development of metabolic syndrome, which is accompanied by obesity, insulin resistance, and type 2 diabetes [2].
Recipes for a fit-style French breakfast
Parisian toast with avocado
Ingredients:
2 slices of rye or whole-grain bread
2 eggs,
1/2 avocado,
4 slices of tomato
2 slices of lean ham, e.g., chicken or turkey
2 slices of yellow cheese
a pinch of salt and pepper,
1 tablespoon of lemon juice,
1 tablespoon of chives
Preparation:
Cut the avocado in half, and remove the pit.
Place the avocado flesh in a bowl, then crush it with a fork.
Add salt, pepper, and lemon juice. Mix everything.
Toast the bread to a golden color in the oven or toaster.
Meanwhile, fry the eggs in a heated pan so that the egg white is coagulated, and the yolk remains liquid.
Spread a thick layer of avocado paste on the bread, and lay ham, cheese, tomato, and eggs on the paste. Sprinkle everything with chives.
Oeufs Cocotte (baked eggs)
Ingredients:
2 eggs
5 g of spinach
a teaspoon of chives
5 g of grated cheese
3-4 strips of dried tomatoes
half a tablespoon of milk
a pinch of salt and pepper
Preparation:
Crack the eggs into a ramekin, add milk, spinach, cheese, dried tomatoes, and season with salt and pepper.
Bake in an oven preheated to 180 °C for 15 minutes.
Serve with bread (e.g., with homemade baguette).
Homemade baguette
Ingredients:
150 g seeds (e.g., peeled sunflower, flax, or pumpkin seeds)
300 ml of milk
25 g fresh yeast
1 teaspoon of sugar
10 g of butter
500 g whole grain wheat flour
1 teaspoon of salt
25 g of olive oil
Preparation:
Add yeast, sugar, and butter to the pot. Heat on low heat until all ingredients combine.
Simultaneously, roast the seeds in a pan.
Add roasted seeds, flour, salt, and oil to the pot.
Knead the dough until it is uniform. Then divide it into 4 parts.
Form a roll from each previously prepared part of the dough. Make diagonal cuts with a knife and place them on a baking sheet lined with baking paper.
Leave the baguettes to rise in a warm place for 30 minutes. Then bake them for about 20 minutes at 180 °C.
Croissant with natural yogurt and dried fruits
Ingredients:
1 croissant
1 small natural yogurt
1 teaspoon of honey
2 tablespoons of dried fruits (e.g., plums or cranberries)
Role of Breakfast
Breakfast is one of the most important meals of the day and plays a key role in proper human nutrition. It constitutes the first meal consumed after a long overnight break. Its primary task is to provide the body with necessary nutrients and energy needed to start physical and mental activity. Therefore, it's important to have breakfast within 2 hours of waking up [3,4].
Numerous studies suggest that people who regularly eat breakfast, compared to those who only eat breakfast 3 times a week, have a decreased risk of developing the following [3,4]:
High blood pressure (by 16%),
Metabolic syndrome (by 18%),
Type 2 diabetes (by 19%),
Obesity (by 20%)
A properly balanced breakfast should provide all necessary nutrients and account for 25-30% of the daily diet's energy [3,4].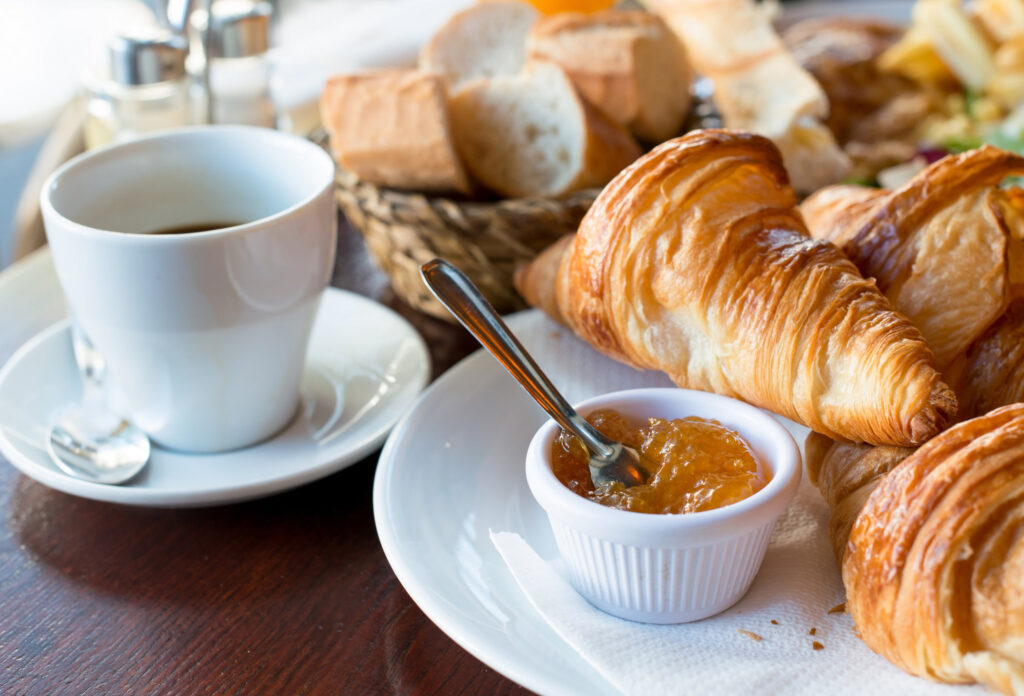 What should be for breakfast?
The following nutrients should be included in a well-balanced breakfast: [3,4]
Complex carbohydrates should be the foundation of breakfast. They are digested and absorbed into the blood slowly, gradually supplying the body with energy. This prevents sudden fluctuations in blood glucose levels, as is the case when consuming simple sugars. Sources of complex carbohydrates are primarily grain products such as whole grain bread, bran, and flakes: oat, rye, buckwheat, as well as millet. These ingredients are also a rich source of dietary fiber, which increases the feeling of fullness and improves bowel motility.
Protein supports the construction and repair of tissues; therefore, it is an essential component of a nutritious breakfast. Its sources include eggs, lean meat, fish, legumes (e.g., beans and lentils), and dairy products (e.g., natural yogurts, kefir, and milk). The latter is also a good source of calcium.
Unsaturated fatty acids provide energy and important fat-soluble vitamins. Their sources include avocado fruits, nuts, seeds, and fatty fish (e.g., salmon and sardines).
Vitamins and minerals are primarily provided by vegetables and fruits, which should not be missing in a properly balanced breakfast.
It's important to ensure the highest possible quality of consumed breakfasts. This means that you should avoid highly processed products and those rich in saturated fatty acids and simple sugars [3,4].
Summary
Breakfast is the most important meal of the day. A properly balanced breakfast should cover 25-30% of daily energy needs and provide all necessary nutrients [3,4].
Although traditional French breakfast is tasty, remember that it is characterized by a high content of saturated fatty acids and simple sugars. Therefore, it is considered low-nutrition and also calorie-empty.
Bibliography:
Clark, P. P. (1975). French Cuisine and French Culture. The French Review, 49(1), 32–41.
Cichosz, G., & Czeczot, H. (2012). Kwasy tłuszczowe izomerii trans W diecie człowieka. Bromatologia i Chemia Toksykologiczna, 2, 181–190.
Gibney, M., Barr, S., Bellisle, F., Drewnowski, A., Fagt, S., Livingstone, B., Masset, G., Varela Moreiras, G., Moreno, L., Smith, J., Vieux, F., Thielecke, F., & Hopkins, S. (2018). Breakfast in Human Nutrition: The International Breakfast Research Initiative. Nutrients, 10(5), 559. https://doi.org/10.3390/nu10050559
Siuba-Strzelińska M., Śniadanie – dlaczego to najważniejszy posiłek dnia?, 9.05.2019, Narodowe Centrum Edukacji Żywieniowej