Psyllium plantain (Plantago psyllium) is known worldwide for its health benefits. It originates from the Plantago family.
Sometimes, due to its origin, it is called Mediterranean or African plantain. Its properties have been known since ancient times, with the first written mentions found in the work "De materia medica" by the Greek physician Dioscorides.
The use of psyllium plantain is very popular in traditional Chinese and Indian medicine. Its applications are broad, used for gastrointestinal issues, fever, and sore throat.
In Poland, we can encounter interesting names for this plant, such as flea or flea seed, due to the characteristic appearance of its seeds, resembling a flea in shape and color.
How to Recognize Psyllium Plantain
Psyllium plantain usually reaches 0.2 to 0.4 m in height, has a somewhat stiff stem, covered in the upper part with hairs, and is profusely covered with lanceolate leaves. We can recognize it by its small, brown flowers. The seeds are small, slightly elongated, and dark in color.
Cultivation
Psyllium is from North Africa, the Mediterranean, and Western Asia. Nowadays, it is mainly grown in India, Pakistan, and Spain. In Poland, the cultivation of flaxseed is more popular; plantations of psyllium plantain are rarely seen.
Which Part of Psyllium Plantain is Edible?
As a herbal raw material or food product, seeds and husks are used. They have many health-beneficial substances and have a neutral taste. Both seeds and husks are easily available in herbal shops or healthy food stores and are increasingly found in popular supermarkets in the healthy food section. The prices vary depending on the brand and package size, with the cheapest options starting from 10 zlotys. In pharmacies, medicines containing psyllium plantain as the main ingredient are available.
Differences Between Psyllium Plantain and Plantago Ovata
Psyllium plantain is often confused with Plantago ovata. They have quite similar properties, but Plantago ovata has slightly more fiber. The color mainly differentiates them; psyllium seeds are dark brown, while Plantago ovata's are light brown. Mixtures of these two varieties are often available, e.g., under the name "vital fiber."
Properties and Impact on Health
Psyllium plantain can assist in treating many different diseases. It has a positive effect on our intestinal microflora, is used in treating diabetes and hyperlipidemia, and thanks to its high fiber content, it increases the feeling of fullness, making it valuable during weight loss. In 100 grams of seeds, there are 68 grams of dietary fiber.
Psyllium is rich in polyphenols, making it a great antioxidant. It also contains healthy fats and proteins and, to a lesser extent, phytosterols. Psyllium plantain helps regulate cholesterol levels, has anti-inflammatory properties, and can be applied topically for skin issues.
Microflora, Constipation, and IBS
It has been traditionally used in Eastern medicine for treating constipation and is commonly recommended to patients suffering from IBS. Psyllium plantain, when mixed with water, takes a gel-like form and mechanically influences the large intestine's function, making the stool more fluid, which aids in regulating bowel movements.
Diabetes and Cholesterol
In the treatment of diabetes, the consistency of psyllium and the fiber found in it are significant. It binds consumed sugars, resulting in less sugar entering the bloodstream, regulating blood glucose levels. The polysaccharides present in psyllium bind the cholesterol consumed by us, reducing its absorption by our digestive system. Regular consumption of psyllium plantain can contribute to maintaining proper cholesterol levels, reducing the risk of coronary heart disease.
Obesity
Regular consumption of psyllium can aid in weight loss. Due to its gelatinous form, it slows down the absorption of nutrients and digestion in the intestines, making us feel satiated longer, reducing the urge for unhealthy snacks.
Contraindications
In most cases, consuming psyllium plantain is safe and beneficial for health. However, it should not be consumed in cases of intestinal obstruction and abdominal cramps and vomiting, as it can intensify symptoms. It should be avoided by people allergic to it, and it can delay or reduce the effect of some orally administered drugs.
Usage
Psyllium plantain can be consumed in various ways. Seeds can be consumed alone, mixed with water or milk. The recommended dosage by manufacturers is up to 3 teaspoons (about 12 g) up to three times a day. It can be added to yogurt, oatmeal, or tea. When consuming psyllium plantain, it is essential to remember about proper hydration— at least 2 liters of water per day is recommended.
When is the Best Time to Use Psyllium Plantain?
It is best to consume it during or between meals. It is not recommended to consume psyllium plantain just before going to sleep. [7]
Is Psyllium Plantain Suitable for Pregnant Women and Children?
Psyllium plantain can be used in appropriate amounts during pregnancy. When given in smaller portions than to adults, it is safe for children over 6 years of age. [7]
Summary
Psyllium plantain has scientifically confirmed supportive effects in treating various diseases, making it worth considering including it in your diet, especially when struggling with the health issues described in this article. Its application is diverse and easy, with quite rare side effects. Regular consumption is safe, even for children over 6 and pregnant women in smaller amounts. Numerous psyllium plantain options are currently available on the market at affordable prices.
Bibliography:
Ayman S. Abutair Ihab A. Nase Amin T. Hamed, Soluble fibers from psyllium improve glycemic response and body weight among diabetes type 2 patient, Nutrition Journal (2016)
Brum Jose M., Gibb Roger D., Peters John C. ,Mattes Richard, Apetite, Tom 105, 2016 r., s. 27-36
Chen Chen, Chang Shang, Laiyun Xin Beneficial effects of psyllium on the prevention and treatment of cardiometabolic diseases, Food & Function 2022
Ekiert Katarzyna, Dochniak Marta Superfoods – idealne uzupełnienie diety czy zbędny dodatek? Piel. Zdr. Publ. 2015, 401–408
Jakubowska Zuzanna, Biernat Anna, Osińska Ewa, Wpływ terminu zakładania plantacji na plon i jakość nasion babki płesznik (Plantago psyllium L.) Herbalism nr 1(8) 2022
Jovanovski Elena, Jaszpal Szahen, Komishon Allison, Zurbau Andreea, Blanco Mejia Sonia, Ho Hong Vi Thanh, Li Dandan, Sievenpiper Jan, Duvnjak Lea, Vuksan Władimir Effect of psyllium (Plantago ovata) fiber on LDL cholesterol and alternative lipid targets, non-HDL cholesterol and apolipoprotein B: a systematic review and meta-analysis of randomized controlled trials, The American Journal of Clinical Nutrition Volume 108, Issue 5, November 2018, Pages 922-932
Komitet ds. Produktów Leczniczych Roślinnych, Nasienie babki płesznika, EMA/HMPC/322933/2013
Król Dominika, Babka płesznik ( Plantago psyllium L.) – wartościowa roślina lecznicza, Postępy Fitoterapii 4/2009, s. 256-259
Narayan, Rupa, Meet Psyllium: A Fiber Product with Potential Cardioprotective Effects Nutrition Noteworthy, 7, 2005
Moayyedi, Paul BSc, MB, ChB, PhD, Quigley, Eamonn, The Effect of Fiber Supplementation on Irritable Bowel Syndrome: A Systematic Review and Meta-analysis, American Journal of Gastroenterology 109(9):p 1367-1374, September 2014
Zhifang Xiao, Hui Chen, The effect of psyllium consumption on weight, body mass index, lipid profile, and glucose metabolism in diabetic patients: A systematic review and dose-response meta-analysis of randomized controlled trials, 09 January 2020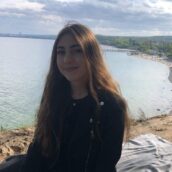 Magdalena Dyk
I am a nutrition student at Wyższa Szkoła Inżynierii i Zdrowia in Warsaw and a graduate of bachelor's studies in business psychology. My main interests are psychodietetics and the prevention of diet-related diseases.